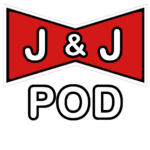 It's time for another current…ish episode of Jake and John Pod!  John went to his first "real" convention and we dance around it while sprinkling in video game ramblings.  Also movies.  In other words, it's business as usual.
This time we both recorded without pop-screens and while holding the mics.  I don't know if it's because I'm becoming a seasoned amateur or what, but I think I sounded a bit better than usual; or at least I had to edit my track last.  John sounded like he was in an iron lung, so I had to work on his a bit more, but I'm trying to be less of a perfectionist about these and let these flow.  I'm trying to follow the one-take ways of .bitblast:thepodcast.
Episode highlights include:
John redeems his screw-up from a few episodes ago
We were young and full of time
Did somebody say Weeaboo?
Panchiko and Pinball Wizards
Houkocon
Tampa Comic Con
John's fear of crossdressers
The Star Wars
TMNT III: Jumping the Shark
Women…
Godzilla vs. Richard Gere
Is John a cosplay racist?
Fatty cosplayers
Fallout Fashion
Cool Jackets aren't for Us
The World's End
Gonk Droid > Tiny Tina
Rockstar DLC and GTAV
I defend Sailor Moon… poorly
Too fat for tennis
Weekly Jump
Click here for all of the places you can find us!
Title song:  Authority Zero – Crashland