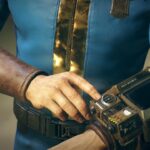 This is our what? 4th? 5th? 76th resurrection?
We're back after about 6 months and we've got a lot of E3 stuff to talk about. Are we biased against Sony, or are they truly limping to the barn? Join us for some vidya games and classic derailments.
Preview pic: Fallout 76… sure why not.
And if you were listening all the way to the end (or just reading this… whatever), have a month of Xbox Game Pass on us! (But only if you've never tried the service before):
2JYGY-4Q3PH-99V92-KKVGG-36???
??? = Foxtrot Tango Zulu
Some episode highlights include:
CM Punk
MoviePass
Friday the 13th Lawsuit
Dead by Daylight
Detroit
Stanley Cup
Some light political stuff
And I'm just gonna put "E3 Stuff", as that's the bulk.